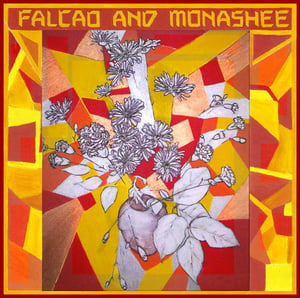 €

7.00
[BR-007]
FALCAO & MONASHEE
"Falcao & Monashee"
Cd-album Buy now 14€. All included
2009 self-titled debut album by Falcao and Monashee, futuristic psych-folk duo from Vancouver and Sao Paulo. The two create adventurous and abstract minimalist lullabies, lovely lo-fi landscapes for the imagination. Listening to songs such as Starlight, Heaven, and Special Agent, one might think of castles and ornate clothes, conspiracies and undiscovered technologies, or even, according to one live review "the end of man and the wars of the Romans". The same article describes their music as "an epic gothy sound". Organic and electronic are blended, centuries intertwined. Dark and beautiful, rich with harmony and melody. In a cottage on Canada's Pacific Coast, songs sprung from loops and field recordings, developing into an album which was finished in Vancouver in March 2009. Featuring the enthusiastic drums and looped bass, guitar, keyboard and 1940's Hammond chord organ of Brazillian-born Rodrigo Falcao, singing alongside Canadian folk-descendent Monashee Sun on harp, banjo, violin, mandolin and keyboards (with analog delay and flanger), all combining to surprise with delightful layers of perspective.
Falcao grew up in Brazil with an Iron Maiden poster on his wall, establishing himself as a drummer in Sao Paulo before immigrating to Canada, where Monashee, daughter of musicians, was raised on radio, old ballads, and homespun songs in British Columbia, singing and picking up instruments from an early age. The two met in Vancouver in 2007, then began cowriting and recording on Galiano Island in January 2008. Living on a hill of arbutus trees surrounded by wilderness and ocean, hitchhiking to and from the local market, - their island home was their studio. Visited by deer, eagles, and vultures, with the constant orchestra of nightly frogs and morning songbirds, F and M posted notes and lyrics on walls and windows. After recording a five song EP, released on the internet with a few copies given to friends and strangers who gave them rides, Falcao and Monashee left the island, spending some time in Sao Paulo before moving to Vancouver to continue work on their album, finishing three more songs, Teleportation, Plot, and Parasocial, as well as reworking the five from their 2008 EP. Playing numerous shows since December 2008, including MUSIC WASTE '09 (Vancouver indie festival), Falcao and Monashee continue their trajectory into the future.